AC grid to battery bidirectional interface (AC2B)
products
Project Description
Integrated system for battery storage management.
AC2B is a device that interfaces the AC network with a battery storage system. The application from which the device takes its cue is "ENERCOD", a project which demonstrates accumulation in two very different application areas: buildings (for optimized micro generation and use of electrical energy) and mobile charging stations for electric vehicles.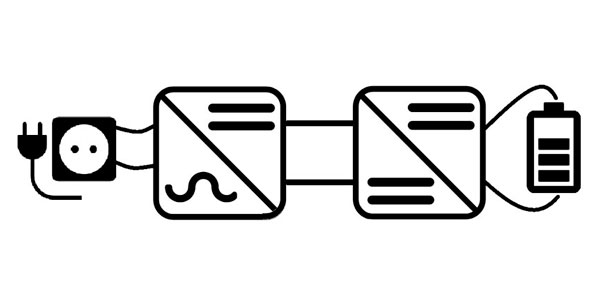 The AC2B module can accept two battery packs (typically lithium-ion) with a nominal voltage between XX and YY V on the one hand and the single-phase AC grid on the other.
In the market, there are very few devices functionally similar to AC2B, however this device is distinguished by:
high modularity;
compactness, thanks to the use of innovative power components (GaN);
"hot swap" on/off capability.
The single device is designed for installation within a modular system, comprising multiple batteries, each connected to an AC2B interface.